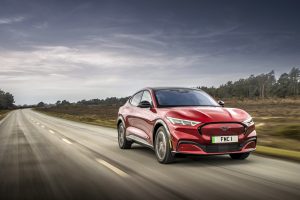 Both top motor award titles announced by The Sunday Times and The Sun sister papers today go to Ford vehicles.
The new all-electric Mustang Mach-E was crowned car of the year by The Sunday Times, thanks to its looks, sporty ride, handling and performance.
"Ford also recognised that customers want more than one battery size option, with up to 379 miles per charge, and the chance to buy two- or four-wheel drive versions," said Will Dron, editor of Driving.co.uk at The Sunday Times.
"Rapid 150kW charging, a roomy interior, brilliantly-realised infotainment touchscreen and high-end sound system all add to the superb package."
Kieran Cahill, Ford of Britain chairman who collected The Sunday Times' trophy, said: "We're delighted that the Mustang Mach-E has been awarded the prestigious car of the year title by The Sunday Times. The highly desirable Mach-E combines the freedom, performance and iconic character of the Mustang and brings this world-famous icon into the electric age."
As The Sunday Times' best family car, the Ford Kuga proved both its practicality and green credentials – with three available hybrid engines.
Transit leader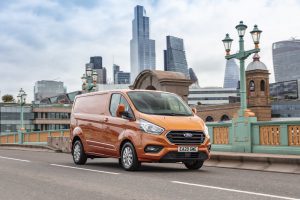 The UK's best-selling vehicle of the year so far is the one-tonne Transit Custom, by a margin of almost 7,000 Customs. Affordability and value were prioritised by The Sun in deciding its van of the year, by presenting the title to the entry-level Transit Custom Leader.
Embedded modem, SYNC connectivity, USB sockets and aircon are all standard on the £24,400 Transit Custom Leader, ensuring accessibility to the acclaimed Transit range in a strong commercial vehicle market
Winning pick-up and tow cars
The Ford Ranger's 2021 newcomers in Stormtrak, Wolftrak, MS-RT and Raptor Special Edition have further extended the appeal of the pick-up range and contributed to its awards haul.
"Pick-up trucks are becoming less like agricultural workhorses and more like family SUVs, and none displays this stark progress as clearly as the Ford Ranger," said Richard Ingram, editor of Carbuyer, when presenting Ranger with the outlet's best pick-up trophy.
"It shows its four-wheel-drive muscle when you ask it to cross tricky terrain, before settling down without a second thought to refined driving on the daily commute. As one car to cover all bases, the Ranger ticks every box."
Consumer advice site Parkers agreed that the Ford Ranger is more than fit for purpose as either a work tool or daily driver.
CJ Hubbard, Parkers pick-up and van editor, said: "With its outstanding blend of all-round capability, refinement and style, the Ranger is the pick-up that comes out on top of some tough and worthy competition, whether you need a working truck or a lifestyle accessory.
Ford Ranger was also named a tow car winner by What Car?, while the Ford Kuga and S-MAX were both praised for towing by the Caravan and Motorhome Club.
The Ford Kuga hybrid's gearbox was singled out for tackling hills in fourth gear when pulling a caravan, while competitors had to drop to third.
On the Ford-S-MAX hybrid, the Caravan Club's experts said: "One of the standout contenders here. Great family flexibility combined with the muscle to tow a large multi-berth caravan. An excellent alternative to a 4×4 SUV."